Tips for Keeping Your Car Dependable
After spending the time and money purchasing a new car, regardless of whether it's new or used and the type of vehicle you get, the last thing you want is to have car problems. Some factors for your vehicle's longevity are beyond your control, such as the make, year, and model. Reliability is a significant factor when considering a car's dependability. Independent of the vehicle's make and model, however, there are some steps you can take as a car owner to extend your vehicle's longevity.

Keep Up With Maintenance

One of the most basic and essential ways to keep your car going strong is to keep up with its regular maintenance schedule. Your vehicle's precise schedule depends on its make, model, and year of manufacture. The schedule will be outlined in the owner's manual. While you can follow...
5 Things to Do While Covid-19 Social Distancing
From closed gyms to canceled vacations and after-school activities, social distancing is impacting thousands of Americans. If you're in a location affected by social distancing mandates, don't despair! Believe it or not, there are simple and effective measures you can take to get through the days more easily. Here are five things you can do during social distancing.
Take on Your Tasks and Chores
Everyone has that dreaded list of things they "should" do in their spare time, such as mailing important letters and catching up on payments. While it might not be as much fun to think about chores that need to get done at this time, the reality is that you'll be relieved to get them out of the way, especially when your normal pace of life picks back up again. This is a time in your life when ...
How do I manage and schedule my service visits with the myChevrolet App?
Sometimes life gets hectic, and just having a few minutes to be able to make phone calls to schedule vehicle service appointments can be rare or just downright daunting. However, keeping your vehicle in tip-top shape is essential for it to keep running smoothly and efficiently. So today, we would like to show you how to conveniently schedule your next service appointment on the myChevrolet Mobile App.
The myChevrolet Mobile App gives you the power to send remote commands to your vehicle from your smartphone, such as turning the engine on or off, check the life of your oil, get directions, and even schedule your next service appointment.
The myChevrolet Mobile App can be downloaded onto Apple or Android smartphones; then, from there, you register the App. Once it has been registered and y...
How to Order a Pizza With Your Chevrolet Vehicle
Ordering pizza is nothing new, and you have probably done it countless times before. Chances are good that you have never done it quite like this, though. In your Chevrolet vehicle, you now have the option to order a pizza from Domino's pizza through your in-vehicle touchscreen. It's never been easier to place an order for your favorite pie.
Where Can I Find the Chevy Pizza Ordering App?
If you're interested in trying out this feature, all you have to do is use the touchscreen inside of your vehicle. You'll have to already have a Pizza Profile with Domino's, which you can sign up for at no cost to you. Then, you can quickly and easily use the features on your screen to place an order for your favorite pizza, whether you want to pick it up from the restaurant yourself or have it delivered t...

Which Chevrolet Models are Preferred by Millennials
Chevy Models That Make a Statement

Every generation seems to find a Chevy that speaks to their soul and defines their youth. The tradition continues as more and more millennials are looking at Chevy models that provide a combination of reliability, style, and performance.
What Chevy Models Millennials Are Driving

It should go without saying that millennials love the Chevy Camaro. Every generation since the 1960s has found Chevy sports cars to be their choice for performance driving. Today a number of young drivers continue to keep the Camaro tradition alive.
For those looking for reliability and style, the Chevy Cruze has been a popular choice. The small sedan is built to last and many young drivers are flocking to this top Chevy seller. In rural areas and the city alike, the Chevy Colorado...

How Does Vehicle Locate Work?
We are in a world where cars are better connected than ever before. Most modern vehicles today have an infotainment system in the center console, which helps you to stay connected. The myChevrolet app has a variety of features that allow you to connect even better with your vehicle.
How Does the myChevrolet App Work?
You've probably been in a situation where you parked your car somewhere in the parking lot, but you can't remember where you parked it. Especially with the larger parking lots, this can turn into a real problem. Through the myChevrolet app, you can stay connected and know where your car is at all times. You can also see who is driving it at any given time. Automated text alerts can be sent to you or other family members. Whenever the connected vehicle arrives at or leaves a de...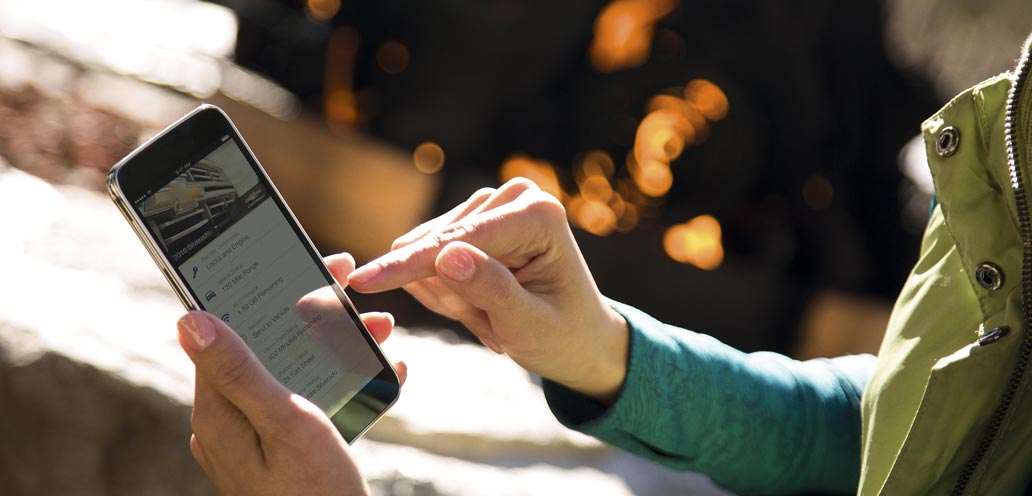 Why Spring Is the Best Time to Change Your Air Filter
When spring finally arrives, the first thing you want to do is let fresh air into your home. So why should your car be any different? There is a small but important component in your car called the air filter. It performs a number of critical tasks such as purifying the cabin's air, providing the engine with clean air, and regulating the air-fuel balance in your vehicle's fuel system. As a result, it improves your vehicle's fuel economy and the engine's performance. By improving the car's fuel economy alone, you'll already save a significant amount of money at the pump. Here are more compelling reasons to keep your car's air filter working properly.
Cleaner Cabin Air
Whether it's hot and humid or there is too much pollen in the air, there are days when you prefer to roll up the windows an...

5 Tips for Preparing your Car for Winter
Winter can be a harsh season for your car, and it can be especially stressful if you have a breakdown. Preparing your car for the winter is a proactive choice that you definitely want to make, and it can reduce a great deal of frustration and might even save you money in the process.
Using these five essential tips, you can empower yourself and be prepared for the unexpected!

1. Tire Rotation and Tire Pressure Check

Having your tires rotated is extremely important for the winter season. Worn tires are extremely vulnerable to cold weather and will interfere with the stopping power needed during a snowfall or cold rainy conditions. The tire pressure should also be checked during the tire rotation, as well as throughout the entire winter season. An under-inflated tire can be very hazardous, a...

How To Know When It's Time For An Oil Change
Having your car's oil changed is one of the simplest and also one of the most crucial service steps you can take to keep your vehicle running great. There are a few different ways to tell when it's time for an oil change, but it's always a good idea to check your user manual for the manufacturer's recommended intervals as well.
Look At Your Oil
If you're wondering when to change your oil, one of the easiest ways to check is to remove the dipstick and inspect the appearance. Clean oil is a relatively light amber color and should show up that way on the dipstick. Old oil is dark brown. One rule of thumb is that if you can see the dipstick through the oil, the oil is fine. If not, then it needs to be changed. If you decide to keep an eye on your oil this way, you should check it every month....

How the All-New 2019 Chevy Blazer Is the Perfect Combination of Technology and Comfort
For the last decade, Chevrolet car-buyers have had the privilege of really good choices for deciding whether to purchase an SUV or a midsize sedan; however, there seemed to be something missing from the lineup. For many generations, the Chevy Blazer was the popular choice among available SUV's and it is still considered to be relevant to buyers. Chevrolet made the last Blazer in 2005. Because crossovers have already been extremely successful with the manufacturer's lineup, it was just a matter of time before the Blazer would make its comeback! This past June, General Motors unveiled the newly redesigned, and iconic, Chevy Blazer in Atlanta. The 2019 Chevy Blazer was reintroduced as a crossover and will hold the slot between the Equinox and the Transverse in the Chevrolet lineup. Since 1983...

What's New With The 2019 Chevrolet Silverado?
The 2019 Chevrolet Silverado is an amazing work of engineering expertise. The new model loses 450 pounds off its body, but it doesn't lose a bit of its functionality and toughness. That took some doing on the part of Chevrolet. Trim levels are as impressive as ever: Trailboss, LT, RST, Work Truck, LT Trailboss, LTZ, and of course, High Country. There's no shortage of options to choose from when you choose a Silverado. Few other models of vehicles offer you the sheer number of customization that the Silverado does, and that means you can make this your truck from head to toe.

What Does the New Silverado Feature?
We'll be looking at mostly the Work Truck (WT) here, but let's not forget all those other trims are worth asking about, too. If you find that the Work Truck almost meets your needs,...

Which Chevy vehicles offer the 4G Hotspot?
The Chevrolet lineup is exceptionally diverse, offering everything from the subcompact Spark and electric Bolt to three-row Tahoe SUVs and the big Silverado pickup. However, all of these cars, trucks, crossovers, and SUVs share at least one characteristic. Every single one of them can have a 4G Wi-Fi Hotspot.
How is this possible? Wifi tethering is available across the lineup via OnStar. Each new model comes with the equipment you need to claim a 4G LTE hotspot, which is a feature that makes sense in a busy world. Most automakers aren't offering this possibility on many of their budget models or the base trims for their more expensive styles.
New Chevy buyers appreciate a complimentary three-month subscription, and it gives them time to learn more about how WiFi will benefit them in their ...