Read about 2013 Cruze for the Decatur area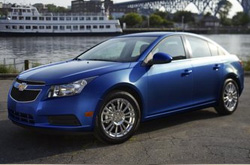 To begin reading Miles Chevrolet's 2013 Cruze review, scroll down below the video. As the premier automotive writers performed countless hours of research on the Cruze to provide you with the most striking information possible. Loaded with important specs and material, each passage gives you complete access to all the Chevrolet Cruze has to offer. Good luck in your search!
Chevrolet Cruze Video Review
Is the Chevrolet Right for You?
Compare the 2013 Chevrolet Cruze to vehicles like the 2013 Honda Civic, Hyundai Elantra, Mazda3 and the Ford Focus, and you'll find that the Cruze outshines the competition in several areas. Look over our Quick List below to find out why!
2013 Chevrolet Cruze MSRP: $17,130
2013 Chevrolet Cruze Seats: 5 passengers
2013 Chevrolet Cruze 0-60 MPH in 9.1 seconds
2013 Chevrolet Cruze Body Style(s): sedan
2013 Chevrolet Cruze Cargo Space: 15.4 cubic feet
2013 Chevrolet Cruze Colors: Atlantis Blue, Autumn Metallic, Summit White, etc...
2013 Chevrolet Cruze MPG: 24 city / 36 highway
Learn About the 2013 Cruze's Engine & Powertrain
Our Chevrolet Service Center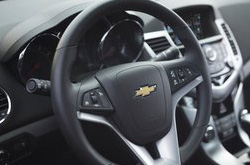 To get your Chevrolet Cruze worked on by wonderful service techs, you don't need to wander far. Our Decatur auto service center is a short jaunt away and we offer a 12-month long warranty on every job. If you disregard caring for your Cruze, its fitness could deteriorate, so take it to Miles Chevrolet's service center in Decatur. We handle a wide array of jobs, including everything from regular inspections and battery replacement to challenging operations like muffler maintenance and more. From the easy to complete to the complex, Miles Chevrolet deals with it all and offers honest prices, awesome service and aces mechanics. Find wallet-friendly service coupons at Miles Chevrolet by clicking below this paragraph!