Decatur Impala Research on the 2013 Chevrolet Model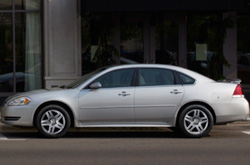 Seeking out information on your next vehicle purchase is important. That's why we take the time to create reviews on the Chevrolet Chevrolet Impala. Good Impala reviews are hard to find; let the well-known Chevrolet dealer in Decatur put it all in one location for you. Loaded with worthwhile specs and material, each article gives you complete access to all the Chevrolet Impala has to offer. Get started by reading the full review or watching the video.
360 Degree Chevrolet Impala Video
Quick Stats for the Chevrolet Impala
Compare the 2013 Chevrolet Impala to vehicles like the 2013 Toyota Avalon, Buick Regal, Ford Taurus and the Chrysler 200, and you'll realize that the Impala trumps the competition in oodles areas. Look over our Quick List below to find out why!
2013 Chevrolet Impala MPG: 19 city / 29 highway
2013 Chevrolet Impala Body Style(s): Large Sedan
2013 Chevrolet Impala MSRP: $25,860
2013 Chevrolet Impala Colors: Black, Victory Red, Silver Ice, etc...
2013 Chevrolet Impala Seats: 6 passengers
2013 Chevrolet Impala Cargo Space: 18.6 cubic feet
2013 Chevrolet Impala 0-60 MPH in 7.8 seconds
Chevrolet Impala: Standard & Available Features for 2013
Decatur Chevrolet Impala Owner Warranty Info & Safety
Helping You Uphold the Value & Quality of Your Investment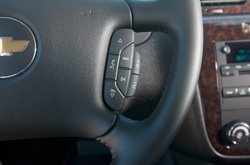 Miles Chevrolet auto repair and service in Decatur is just a click away! Your Chevrolet deserves to be treated properly - that means Impala factory- trained Chevrolet technicians, the peace of mind that comes from a 12-month service work warranty and bona fide Chevrolet parts and accessories. With assistance from Miles Chevrolet's car repair aces your Chevrolet will run perfectly. Our techs can work on a gamut of jobs - from more elaborate stuff like Chevrolet transmission repair to less intricate undertakings like serpentine belt and tire rotation and replacement. And, Miles Chevrolet offers one-on-one customer service and thrifty prices. Click the ensuing link to find current service specials now!