Quality Chevrolet Silverado Research From Miles Chevrolet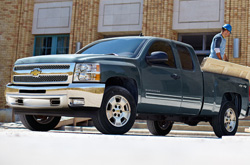 Seeking out information on your next vehicle purchase is important. That's why we take the time to create reviews on the Chevrolet Chevrolet Silverado. Good Silverado reviews are hard to find; let the top-rated Chevrolet franchise in Decatur put it all in one location for you. Make sensible decisions when it comes to your next auto purchase, don't take guesses! Each passage is crammed with data and vehicle features in way that's easy to understand. Good luck in your search!
Take a Video Tour of the 2013 Chevrolet Silverado
Introduction to the 2013 Chevrolet Silverado in Decatur
Chevrolet Silverado Comparisons & Quick Specs
Comparing the 2013 Chevrolet Silverado side-by-side with against vehicles like the 2013 Dodge Ram, Toyota Tacoma, Ford F-150 and the GMC Sierra 1500, and you will see that the 2013 Silverado trumps the competition in numerous areas. Browse our bullets to see why!
2013 Chevrolet Silverado Body Style(s): Pickup Truck
2013 Chevrolet Silverado Seats: 6 passengers
2013 Chevrolet Silverado Colors: Black, Victory Red, Deep Ruby, etc...
2013 Chevrolet Silverado 0-60 MPH in 6.9 seconds
2013 Chevrolet Silverado MSRP: $22,595
2013 Chevrolet Silverado MPG: 15 city / 20 highway
2013 Chevrolet Silverado Cargo Space: 60.7 cubic feet
Get cash for your trade when you purchase a Chevrolet Silverado
Trims & Features on the New 2013 Chevrolet Silverado
Engine & Powertrain Specs for the 2013 Silverado
2013 Silverado Warranty & Safety Technologies
Maintaining the Quality & Value of Your New Investment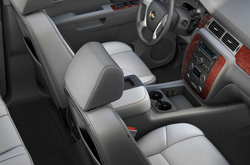 Unlike conglomerate auto centers, our Decatur car repair facility offers reliable OEM parts, spectacular Chevrolet trained technicians and a long-term warranty for all services. We're also conveniently situated near numerous local cities. Miles Chevrolet's knowledgeable mechanics will keep your Silverado in good condition. The following is only a fraction of what we handle: front and rear brake pad fixes, transmission repairs, serpentine belt replacement and much more. We also take care of a gamut of extra services. For tried-and-true Chevrolet repair in Decatur, drive your Silverado to Miles Chevrolet, where you can bet on getting awesome service. See the link underneath this text? That's your path to savings! Proceed and click to see the most up to date coupon specials.