Decatur Chevrolet Dealer Researches the New Volt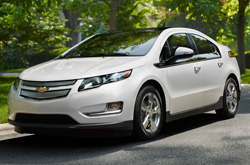 Seeking out information on your next vehicle purchase is important. That's why we take the time to create reviews on the Chevrolet Chevrolet Volt. We are a premier Chevrolet dealer in Decatur, and it's our mission to provide you with Chevrolet reviews recorded by some of the most exceptional automotive writers in the industry. Loaded with practical specs and information, each article gives you complete access to all the Chevrolet Volt has to offer. Can you see the Volt parked in your driveway? You won't know unless you read on!
Overview of the 2013 Chevrolet Volt in Decatur
Is the Chevrolet Right for You?
When comparing the 2013 Chevrolet Volt next to the 2013 Nissan Leaf, Toyota Prius, Ford Focus Electric and the Hyundai Sonata Hybrid, and you'll catch that the Volt out does those autos in loads aspects. Look over just a few of the reasons below.
2013 Chevrolet Volt Colors: Black, Viridian Joule, Summit White, etc...
2013 Chevrolet Volt MPG: 24 city / 36 highway
2013 Chevrolet Volt 0-60 MPH in 8.53 seconds
2013 Chevrolet Volt Cargo Space: 10.6 cubic feet
2013 Chevrolet Volt Seats: 4 passengers
2013 Chevrolet Volt MSRP: $39,145
2013 Chevrolet Volt Body Style(s): Compact Sedan
Volt Safety Features & Your Chevrolet Warranty
Chevrolet Volt Service Info for Decatur, IL
To find amazing Chevrolet repair techs and actual factory-made parts, Decatur Volt owners need not travel far. Go to a facility close to your place of residency, and benefit from the tranquility that comes with receiving topnotch repairs and a long warranty on every repair. Don't disregard routinely maintaining your Chevrolet. Turn to Miles Chevrolet's manufacturer-trained mechanics. We handle more involved, trying services like transmission repair, as well as effortless undertakings such as speedy oil and filter changes, tire replacement and a diverse set of other special services. Conjointly, Miles Chevrolet's always got fair prices on Chevrolet repairs in Decatur, even for incomplex OEM recommended maintenances. Check out the link below to see how much money you can save on your next service appointment.
You can contact our service center 24-7 using our online form