About Miles Chevrolet Silverado Reviews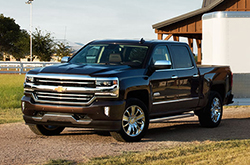 The bold Chevy Silverado has undergone a slight redesign for the 2016 model year. In order to remain at the top of the full-size pickup truck segment, the always capable Silverado has been given a facelift that truly reflects the truck's power and versatility. It dons brand-new aggressive styling and chiseled components that truck buyers are guaranteed to find appealing. The 2016 Chevy Silverado means business and when it comes to heavy-duty pickups, there's no better option on the market today. For more information about the new truck and its fresh additions, take a look at our full-length 2016 Chevy Silverado review below.
New front end designs, piercing headlights and striking horizontal elements bring the 2016 Chevy Silverado in Decatur to life. Coming into the new model year, the full-size pickup is more robust than ever before, sporting a sculpted exterior design with strong lines that give the Silverado a dramatic appearance. Across all models, the truck's signature dual-stacked headlights are gone this year, making room for smaller lamps, while upper trim models gain two rows of LED lighting. Separated by an accent bar, each row of LED lights give the truck a premium look that is still practical.
In addition to the Silverado's exterior revisions, an eight-speed automatic transmission will now be offered throughout the model roster. A variety of new safety technologies will also be integrated into the 2016 Chevy Silverado in Decatur, as will an updated version of Chevy MyLink. The modified system will support both Apple CarPlay and Android Auto, which allow drivers to utilize smartphone functions through the truck's infotainment system. Each of these features help reduce in-car distractions and make driving a little bit safer for all.
To learn further details about the new Silverado and its features, keep browsing our 2016 Chevy Silverado review.