Decatur Chevrolet Dealer Researches the New Spark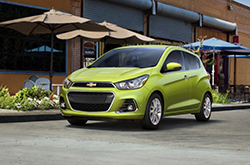 Redesigned and revamped for 2016, the Chevrolet Spark offers an unparalleled mini-car experience for today's drivers. Modernized with extra technologies, new safety programs and a more powerful engine, the 2016 Chevy Spark in Decatur will not disappoint. Check out our 2016 Chevy Spark review below for more information on Chevy's popular minicar.
Now updated with extra connective features like an all-new MyLink infotainment system, OnStar availability and the potential for a 4G LTE built-in Wi-Fi hotspot, the Spark is a contemporary choice for the modern driver. In addition to the technology upgrades, the design of the Spark has been revised in favor of a more mature style, including three new available colors, an evolved grille and sweeping elliptical headlamps. Architecturally adjusted with a wider frame and shortened height, the 2016 Spark showcases a refined appearance without the sacrifice of any interior space. Whether you need extra room for passengers or cargo, this mini-car has big potential when it comes to maximizing space.
The hatchback's newly revised exterior and interior are complimented by an equally athletic powertrain. This new powertrain, a brand-new 1.4L Ecotec engine, offers top-notch efficiency in addition to performance. Combined with a continuously variable transmission, the Spark offers terrific power and fuel economy. Prefer manual shifting? The Spark's manual gearbox also offers fantastic fuel numbers, as well as a fun and interactive driving experience.
The restyled minicar hasn't lost sight of its award-winning safety abilities. Back with the same safety features that made it a Top Safety Pick by the Insurance Institute for Highway Safety in 2015, the all-new Spark now comes with ten standard air bags, a standard rearview camera, forward collision alert, lane departure warning and rear park assist. A source of spectacular 2016 Chevy Spark reviews, the hatchback's remarkable safety capacity is yet another reason the Spark is an admirable choice in the minicar segment.
Strong, safe and advanced, the Spark is a top choice when it comes to an efficient vehicle with maximum utility. To see the Spark's impressive versatility for yourself, test drive a 2016 Chevrolet Spark in Decatur today.