About Volt Reviews for 2016 from Miles Chevrolet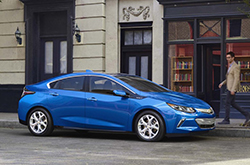 Plug-in hybrid ownership is easier than ever thanks to the all-new 2016 Chevrolet Volt in Decatur. Sportier, smarter and more efficient than ever before, the 2016 Volt is redesigned to include more seats, better technology, improved performance and more accessible charging capabilities. For more information about Chevy's premier plug-in hybrid, check out our 2016 Chevrolet Volt review below.
Since the hatchback's arrival in 2010, Volt drivers have saved more than 35 million gallons of gas. And it doesn't stop there. The all-new Volt is better than ever this year, sporting a revised Voltec propulsion system that combines an 18.4 kWh battery with a 1.5L V4 engine. Driving around town? The all-electric driving range has increased to allow you to travel up to 50 miles between charges. Need to take a road trip? That's no issue either in the Volt, especially since the range extending engine offers an estimated 41 mpg, as well as convenient 120V portable cords.
Charging is truly a breeze in the 2016 Volt, thanks to its intuitive charge status indicators and intelligent GPS location-based charging system. Volt owners will be extremely satisfied with the quality they find in the hathback; a quality that many 2016 Chevy Volt reviews have acclaimed, calling the hatchback a segment leader that offers the best all-electric range of any plug-in hybrid.
Beyond the efficiency and power, drivers will be extremely pleased with the comfort, safety and entertainment they'll find in the all-new Volt. Now a more spacious hatchback with room for 5, the Volt offers an 8-inch touchscreen display, three unique drive modes, ten airbags, a system that enables driver control of energy regeneration (known as Regen on Demand) and a rear-vision camera. In addition, Decatur drivers will be pleased to know that heated rear seats, a heated steering wheel and a navigation system are all available on this year's model.
Efficient, safe and ready to handle all of life's adventures, the 2016 Chevy Volt in Decatur offers the comfort and fuel economy drivers need with the extra features and convenience they desire.